Pomona Electronics 7519A TwistGuard™ Test Lead Set
Twist and Test for Measurement Versatility and Increased Safety
EVERETT, WA – The Pomona Electronics 7519A TwistGuard™ Test Lead Set features an adjustable probe tip shroud for use in different measurement environments. By simply twisting the test lead the user can change the exposed probe tip length from 19mm to 4mm (0.75 in to 0.16 in); reducing both the amount of tip exposure and any chance of an arc flash from short circuits.
The patented design offers the versatility and quality needed to instantly change the test leads from a CAT II rated probe to a CAT III/IV rated probe, allowing users to meet the latest electrical safety requirements.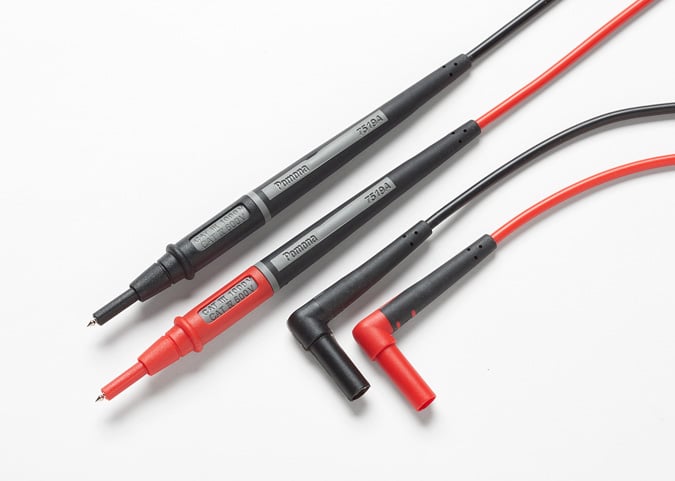 Features
Compatible with all instruments that accept standard 4mm shrouded banana plugs; an excellent choice for anyone looking to upgrade or replace their existing test leads
New WearGuard™ test lead wire is covered by two layers of silicone insulation, which acts as a wear indicator exposing an inner contrasting color when the leads are nicked, scuffed, or otherwise damaged and in need of replacement
Extra-heavy strain relief on both the probe-end and banana plug-end, tested beyond 30,000 bends without failure
Rubber-overmold on the probe and plug provides the user a comfortable hold and steady grip for making accurate measurements
Conforms to EN61010-031
CAT III 1000V / CAT IV 600V, 10A max. when probe tip shroud is fully extended
CAT II 1000V when probe tip shroud is retracted
Probes always show correct category rating for the tip exposure being used
Environmental ratings: -20°C to +55°C (-4°F to +131°F)
For more product information, visit the 7519A TwistGuard™ Test Lead Set product page here or contact us at techsupport@pomonatest.com.
Pomona Electronics-brand cables, connectors and test accessories are available at industrial and electronics supply outlets worldwide.