Pomona Electronics introduces new test probes with screw-on alligator clips
Designed for safe, secure attachment to test probes
EVERETT, WA – Pomona Electronics, the leading manufacturer of cable assemblies, connectors and test accessories, announces Model 6723 Test Probes with screw-on alligator clips. The 8-32-UNC 2A-threaded tips are designed for secure attachment to test probes providing R&D engineers and electronics service technicians safe, stable measurements for consistent test results.
"Screw-on clips stay firmly attached to the leads," said Dwight Hyland, Pomona product manager. "Moreover, the user does not need to worry about the probe pulling out of the clip, leaving the clip attached to a voltage source with a possible electric shock hazard."
The Pomona leads are safety-rated at IEC1010 1000 V CAT III for the probe alone, and the screw-on alligator clip Model 6723 is rated at 300 V CAT II with 10A current maximum. The leads are extremely flexible with silicone insulation for better temperature performance over a wide temperature range, from 14°F to 221°F (-10°C to 100°C). The probe itself is designed for a comfortable grip by the user.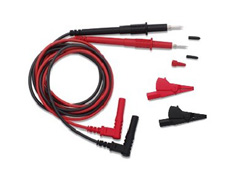 All Pomona connectors are designed to meet the highest standards for durable, long-lasting connections and are backed with complete instructional engineering drawings and support.
For more product information, contact: Pomona Electronics, 9028 Evergreen Way M/S 85, Everett, WA USA 98204. Call (425) 446-6100, fax (425) 446-6070, or e-mail technicalsupport@pomonaelectronics.com. Pomona Electronics-brand cables, connectors and test accessories are available at industrial and electronics supply outlets worldwide.